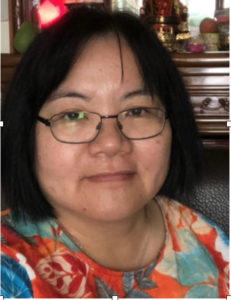 Donna Liu Ashworth
Donna Ashworth 劉秀敏 was born in Taiwan, she studied sociology in Tung Hai University before she moved to the US in1986. Donna has three grown sons, they are her jewels even now, and her husband for 34 years! Taking care of her family has always been her priority in life. On top of teaching language classes, she also enjoys the coffee culture. She has been working for a coffee giant for quite some time.
1992-1997 Taught Mandarin Chinese in Richmond Chinese School (RCS).
1997- 2002 Family relocated to HK, Donna earned two teaching certificates from Hong Kong University School of continuing education on subjects of Putonghua teaching and teaching Chinese as a second language. Donna was employed by Kumon educational Institute as a Chinese language teacher during the period of living in Hong Kong.
2003-2014 After moving back from HK to the US, Donna continued to teach in RCS.
2004- 2008  Taught Mandarin Chinese to the engineering department at Hamilton Beach/Proctor-Silex corporation.
2009- Currently serving as a Mandarin interpreter for C&M Multilingual Inc.
2014- 2016 Relocated to Mainland China.
2017-  Currently serves as the principal of RCS.